&nbsp
Klik sini untuk membeli Buku dan VCD Keadilan terbaru !
Bangkitlah Kaum Buruh & Petani
Menentang Ekstremis & Hipokrits!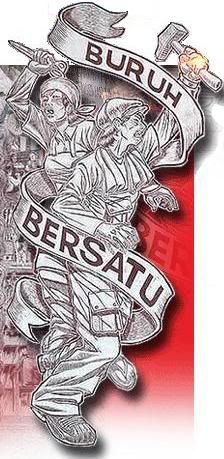 ~ faisal mustaffa online ~



&nbsp
Thursday, July 17, 2008
Invitation to TELLUTAU: An Arts Exhibition
Title of Exhibition : 'TELLUTAU'
Date : 19TH JULY 2008 – 16TH AUGUST 2008
Venue : LOOKIS
1A-1 ANZEN BUSSINESS PARK,TAMAN BUKIT MALURI,
KUALA LUMPUR
Viewing hours : Mon – Sat 10am – 7pm.
Other times including Sundays and public holidays by Appointment
Admission is Free
ABOUT TELLUTAU
Fast establishing itself as one of Malaysia's most exciting art groups, Dikala Jingga is staging its third 3 person art show. Drawing strength from their common Bugis heritage, ( Tellutau translates as three people in that language) the artists steer this series of work towards social and political inquiry relying abundantly on the art language of surrealism and pop culture.
Zul's professional art career began with his paintings of the human form. These days he concentrates on painting animals. Whereas in his earlier series his animals were endowed with auspicious symbols and qualities (still seen in the magnificent red and silver arowanas in " Good Luck #6 and #7") now they bear messages of subtle cynicism and greater immediacy. His animals represent the virtues and not so virtuous nature of humans especially those entrusted by society with high office and power. Through the titles of paintings such as " Cow tu Lembu" the artist reveal his contempt for human's ignorance while in other paintings like "Bersih" and " Masa Untuk Perubahan" his art speak of the excitement, drama and anticipation about Malaysia's newly altered political landscape.
Tellutau is the start of Suddin's new series of paintings. Not confined to any particular issue, Suddin paints his favourite subject - the human figure, etching his subjects with strong emotions, stirring colours and defining brush strokes. The musicians in his paintings convey the music they play merely by their bodily gestures. The loudness of the music, the viewer has to imagine by looking at just the colours which also allows him to almost feel tone, vibration and harmony as in " Versa #2". Hidden beneath his evocative figures and gestures is the artist's message of education and self improvement born out of Suddin's background as an art teacher.
Picasso described art as the lie that enables us to realize the truth. True to this spirit, Nurazmal attempts to document his childhood past from an entirely unexpected vantage point. In this, Nurazmal's interior acts only as a silent and indifferent backdrop. With a whiff of both humour and sinister the artist plays with images that have passed and vision of things to come to transport the viewer to his imaginary realm of space and time. In " Floating-Floating in My Room" the dark and macabre also lurk, this time behind the shadows and light with his ever present alien or cartoon character thrown in for good measure.
ABOUT THE ARTISTS
Zulkiflee Zainul Abidin
Born in Tongkang Yat, Kedah, 6 SEPTEMBER 1978
1996-2000 Bachelor of Fine Art Mara University Of
Technology (Uitm) Shah Alam, Selangor.
Zulkiflee has been a professional fulltime artist since he graduated from ITM. Apart from his passion as a fine art artist he is also actively involved in other art fields such as in production house as an art director producing drama and films. He is also the creative person behind IKD and MEGC book publications.He is also a talented musician and is now cutting his first single album with Nurazmal.
SAMSUDDIN LAPPO
Born in Tawau Sabah, 28 MEI 1977
1996-2000 Bachelor of Fine Art Mara University Of
Technology (Uitm) Shah Alam, Selangor.
Suddin,an avid fan of Alex Kanefsky is an art teacher who is actively involved in the arts.At Ruang Kala, Studio Dikala Jingga, he is responsible for curating and promoting of young artists in Malaysia.
NURAZMAL MOHD YUSOFF
Butterworth Penang, 20 Mac 1978
1996-2000 Bachelor of Fine Art Mara University Of
Technology (Uitm) Shah Alam, Selangor.
Nurazmal has been actively involved in art since in his elementary years. He has participated in numerous art exhibitions and won several art competitions in Malaysia and abroad. Apart from that he is also a singer and he is now preparing for his first single with Zulkiflee.
ABOUT LOOKISS
Lookiss is a premier Malaysian Fine Art Gallery dedicated to promoting art in Malaysia as an essential means of Malaysia's search for national self identity and fundamental human right of freedom of expression.
Lookiss promotes Malaysian Art by any artist no matter what race, religion or creed. To find out more visit www.lookissgallery.com or better still visit our art gallery.
Lookiss . Art for Democracy. Hang Art, Not People.
For more information please contact : Thomas Kerk Boon Leng 012 3831988 hp, 03 62751333 office.
Zam 012 65767 17 / 016 6296717
Labels: Loh Gwo Burne, tellutau