&nbsp
Klik sini untuk membeli Buku dan VCD Keadilan terbaru !
Bangkitlah Kaum Buruh & Petani
Menentang Ekstremis & Hipokrits!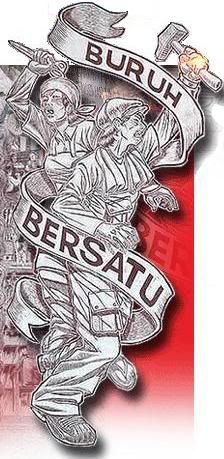 ~ faisal mustaffa online ~



&nbsp
Friday, June 20, 2008
PELAN-PELAN & BILIK GERAKAN
A Solo Art Exhibition by Saiful Razman


With photography installation "789" by Hishamuddin Rais and Mohd. Redzuan Othman
Exhibition Opening: Fri 20 June 2008 / 8pm
Admission free!
Venue: The Annexe Gallery @ Central Market Annexe
Gallery Periods: Sat 21 June to Fri 4 July, 11am to 7pm
03-2070 1137 / cmannexe.wordpress.com
017- 371 5641 / saifulrazman80@gmail.com
The Exhibition
One of Malaysia's brightest young artistic talents Saiful Razman presents his first solo exhibition, entitled Pelan-Pelan Dan Bilik Gerakan. Tackling the theme of urban fatigue and psychological stress of the sensibility-numbing life in the Klang Valley where Saiful lives and works, the artist puts city life squarely in focus in his latest works. Among the subjects Saiful tackles include media overload, religious and moral hypocrisy, monocultural and monotheistic tyranny, and right-wing chauvinist ideologies.
The Artworks
"Pelan-Pelan" is the title of Saiful's new series of drawings and paintings executed in acrylic and bitumen on canvas, with emphasis on repeated patterns that symbolise the repetitive drudgery of urban life. The title is a play on the Malay words "pelan-pelan" which literally translates as "plans" but when pronounced is similar in sound to "perlahan, perlahan" which literally translates as "slow, slow".
"Bilik Gerakan" is the title of the room installation that will be part of the exhibition, which includes drawings by Saiful Razman, video works entitled "Dilarang Melarang" with music by Gasoline Grenade; and Hishamuddin Rais and Mohd. Redzuan Othman's photographic documentation of this year's general elections, entitled "789". "Bilik Gerakan" is the Malay term for the "mobilisation centres" of political parties during the election period.
About the Artist
Since graduating with BA in Fine Art from UiTM in 2003, Saiful Razman has made a name for himself with invitations to participate in various exhibitions in Malaysia, Indonesia and Australia. He was featured in Valentine Willie Fine Art's Three Young Contemporaries in 2004 and was selected for the artist-in-residence programme at Rimbun Dahan in 2004/2005. Aside from his art, he was involved as a committee member of Notthatbalai, the annual fringe arts festival held at Lost Generation Space. Formerly the arts space manager at The Annexe, Central Market, also plays in the punk rock band
Gasoline Grenade.
Check out the band lah!!
http://www.myspace.com/gasgrenade
Media Enquiries
Jerome Kugan, PR Officer, The Annexe (HP: 016-802 7347; Email: jerome.centralmarket@gmail.com)
GASOLINE GRENADE
Pijan: Guitar/Vocal
Razman: Bass/Vocal
Aiman: Drum
Dilarang Melarang
Lihat saja billboard itu berjalan di kepalamu
Melintasi awan jerebu hinggap ke paru-paru
Teruskan perjuangan cita-cita shortcut ke syurga
Atau terus bikin akta kerja nak menyaman saja!
c/o
Dilarang melarang!
Silakan menentang!
Bukti saja dosa-dosa kita
Kami kamu semua terkira
Tersimpan dalam beban agama
Bangsa dan negara
Polis dan Rela!
Lihat saja billboard itu berjalan dikepalamu
Ada wajah kecil besar ada kasta projek juta
Teruskan perjuangan cita-cita shortcut ke syurga
Atau terus bikin akta kerja nak menyaman saja!
Tersimpan!
Dosa!
Agama!
Bangsa!
Tersimpan!
Beban!
Polis!
Rela!
Lyric: Razman
Music: Gasoline Grenade
Video: Fairuz Sulaiman
Labels: Annexe Gallery, Central Market Annexe, hishamuddin rais, mohd redzuan othman, saiful razman, VK Lingam