&nbsp
Klik sini untuk membeli Buku dan VCD Keadilan terbaru !
Bangkitlah Kaum Buruh & Petani
Menentang Ekstremis & Hipokrits!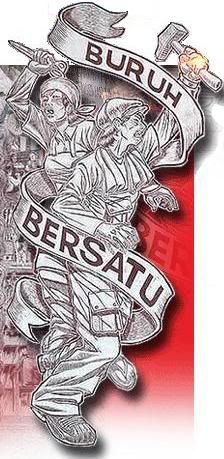 ~ faisal mustaffa online ~



&nbsp
Tuesday, May 27, 2008
In a rush to make things better
Meet passionate social activist Faisal Mustaffa, who takes on so many roles it's a wonder how he manages to keep track of his own life.
By Debra Chong (
malaysianinsider
)
KUALA LUMPUR, May 27 – Faisal Mustaffa, 37, is looking pretty exasperated. His hair, normally combed back neatly, is sticking up at angles. Clutching a stack of papers in one hand, he runs the other over his head, mussing his hair further. His quick dark eyes search through the crowd in the Parliament lobby but fails to find what he seeks.
"Aiyooo!" he half-yells and assaults his hair one last time before darting off into a side corridor in frustration.
Faisal is parliamentary secretary to not one, but two members of parliament — Liew Chin Tong, DAP's representative from Bukit Bendera, Penang and Loh Gwo-Burne, PKR's man for Kelana Jaya, Selangor.
But that is only one of the many hats he wears. He is also a research
officer for a political think tank, Research for Social Advancement (Refsa); secretary for the Coalition for Clean and Fair Elections (Bersih); secretary for the Kelana Jaya constituency; part-time lecturer in economics, journalism and social issues at several local colleges; general secretary for the Private College Union; founder of Tokobuku, an online bookstore that serves up information of a political and social nature; writer for controversial news portal Malaysia Today; a correspondence writer for influential Indonesian political magazine Tempo; and full-time blogger.
His normal routine sees him sleeping at 4am and getting up at 10am, but that was before Parliament convened. Though he sees no conflict with serving two masters from two political parties – even if they are sitting on the same bench now – he has more than his hands full running after one or the other, helping them prepare their speeches for debates in the Dewan Rakyat and basically memorise their weekly schedules to advise inquisitive media bearing down on him.
And on some days, like today, he wonders why he puts himself through such torture. But then he thinks back on the idealism that first moved him to political action and it helps him get through the bulk of human nature.
"I like doing research," says Faisal guilelessly, when asked for the reason behind his involvement in so many political and social departments. Though he admits to being a social activist, he shies away from the limelight, preferring instead to effect change from behind-the-scenes.
"It started with the Aku Janji (a government-initiated pledge compelling college and university students) to swear not to be involved in politics," says Faisal of his involvement in politics, back in his student days, which critically coincided with Datuk Seri Anwar Ibrahim's reformasi movement in 1997.
He got onto the web forum, Sang Kancil, founded by the late MGG Pillai, a noted political activist who was among the earliest journalists to realise the potential of the Internet in enhancing political consciousness, and from there went on to Raja Petra Kamaruddin's website.
"My parents were not keen for me to get involved even in student politics. But I did secretly," he chuckles.
Faisal, who holds a Masters in
Business Administration, attributes his political and social awakening to Rustam A. Sani, the former deputy president of Parti Rakyat Malaysia (PRM) who passed away last month aged 64.
"Rustam Sani was my lecturer in social sciences at Universiti Kebangsaan Malaysia (UKM). I blame him. He was a good writer and lecturer. I got attracted!" jokes Faisal.
In 2001, he joined PRM, one of the oldest political parties in the country having been founded in 1955. And when the party merged with Anwar's Parti Keadilan Negara in 2003, he followed suit, not because he shared the early goals of latter party but because he wanted to continue working for the good of the people, particularly on human rights issues.
"Our struggle in Parti Rakyat did not and has not changed," he emphasises.
He proceeded to do a lot of social work. He was a central executive committee member, headed the international bureau, and travelled a lot to present papers, particularly on the subject of media freedom and the role of youths.
Even now, on top of his packed schedule, he sets aside time on Sundays to conduct a creativity class to primary schoolers in Desa Mentari, a notoriously dense urban development for the poor on the outskirts of Bandar Sunway and Kelana Jaya.
"Creativity teaches them to be independent, to solve problems by thinking wisely out of the box," he says of his pet project, which is part of the Desa Mentari Volunteer Tuition Programme initiated last year by Seri Setia state assemblyman, Nik Nazmi Nik Nik Ahmad.
"The issues affecting the urban poor are more serious than the rural poor. The urban poor live in breaks (in the concrete jungle). Money is everything in KL and PJ; we can still live, if we have no money, in the kampungs. That's why I started to research the cases in Kampung Medan," cries an impassioned Faisal.
Kampung Medan is another housing development for the urban poor, more notorious than Desa Mentari. The homes there are crammed so tight the inhabitants practically share each other's living rooms and kitchens. Such living conditions have even sparked race riots, which led to bloodshed in the recent past.
"I'm a town boy, born and bred in PJ and had no experience in politics. In university, I realised that wealth doesn't bring happiness. I believe most of us want a good life," Faisal observes.
And that is why he continues to put in those hours daily, so that more people can live a better life.